Black Pepper is a flowering vine, which belongs to the family of Piperaceae. It is mostly cultivated for its fruit which is peppercorn. The fruit is usually harvested when mature, dried, and ground. It is used as a spice and seasoning in traditional Indian cuisine. Young black pepper or black pepper is gotten from the premature green drupes of the pepper plant which are boiled in hot water and then sun-dried or machine-dried. The skin that covers the drupes shrinks and darkens gradually. Once the drying process is completed, the drupes are then referred to as a black peppercorn.
image source: Pixabay.com
Black pepper is one of the most common spices used in cuisines all over the world. It is not only spicy but, also enhances the taste of any dish it is sprinkled on. It derives its heat from a chemical compound called piperine, which is almost similar to the capsaicin component present in chili peppers.
Nutritional Value of Young Black Pepper
Black pepper is a rich source of multiple vitamins and minerals. Vitamin A, vitamin C, vitamin K, and vitamin B6. It also contains thiamin, riboflavin, niacin; potassium, choline, folate, sodium, and betaine. It contains about 11g of protein per 100g serving. It possesses zero-calorie levels.
Health Benefits
Black pepper contains multiple health benefits. The oil extract also aids in soothing stressed muscles and depressed minds. It helps the body enter a relaxed state. The following are more benefits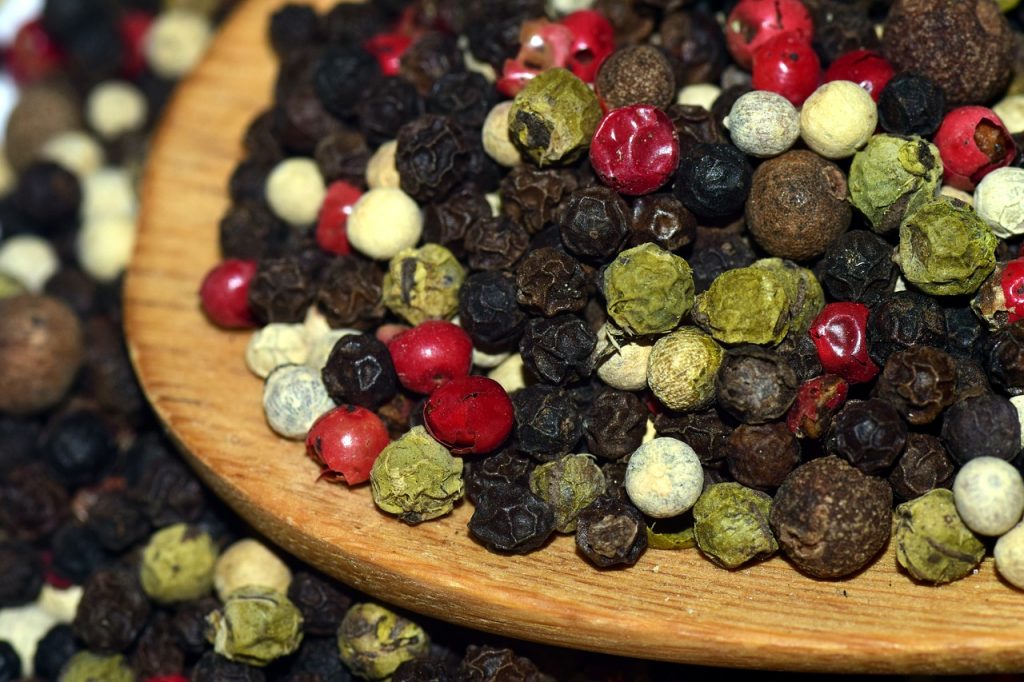 image source: Pixabay.com
The piperine contained in black pepper aids in the treatment of depression. Regular consumption of black pepper helps in enhancing brain functions and memory boost.
Regular intake of black pepper aids the body absorbs nutrients from food to its maximum potential.
It enhances the secretion of hydrochloric acid in the body which is vital in the digestion process. This acid also helps in the prevention of gastrointestinal disorders in the body as well as stimulating sweat and urine, which helps remove toxic wastes from the body.
Contains antioxidant, and anti-inflammatory components which help treat peptic ulcers which are capable of causing a lot of pain and discomfort to the patients. It aids in the building up of mucosal defense and helps reduce the risks of ethanol related problems.
It contains expectorant properties which treat symptoms related to cough, sore throat, and other respiratory diseases. A mixture of black pepper with honey is a natural remedy for the treatment of severe cough cases.
The oil extract of black pepper is also terrific for therapies. It helps get rid of the pain of arthritis. When applied on the skin, its warm sensation helps boost blood circulation in the body.
Crushed black pepper mixed with honey and fresh cream can serve as the perfect skin exfoliator. It takes away dead skin cells and allows oxygen circulation in the skin. It also helps in treating vitiligo, a skin condition where the skin unnecessarily loses pigmentation.
Wrap Up
The best way to harness the maximum nutritional benefits of black pepper is by using it as a post-seasoning. Cooking it together with meals may reduce its effectiveness.