The young coconut is similar to regular coconut. The major difference is that young one is harvested prematurely from the tree. Unlike the mature ones, which would naturally drop from the tree once due. They are usually green and fibrous with a thicker outer shell. Naturally, the best way to consume fruits and vegetables is when they are mature or ripe. Unripe fruits may possess high edible acidity concentration that may not be beneficial for the health if consumed. However, such is not the case with young coconuts.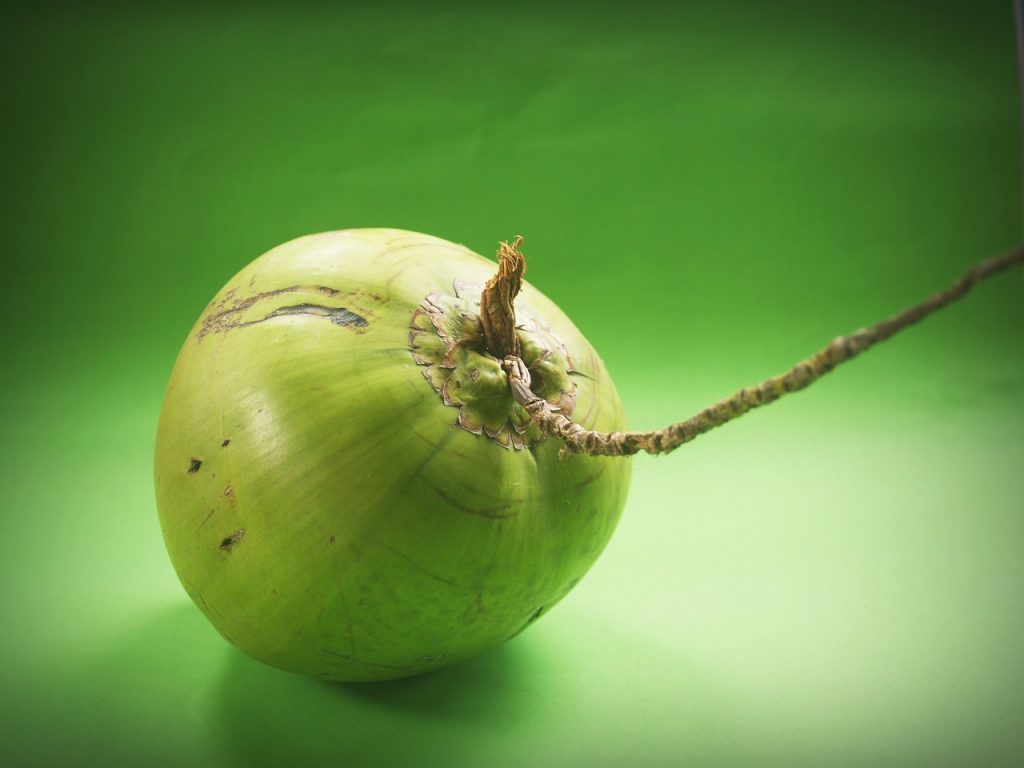 image source: Pixabay.com
Coconut Water
Young coconuts usually have more water than mature ones. On an average, they contain about a glass-full of water. Just like the meat, it is rich in carbohydrates, fiber, protein, vitamin C, magnesium, potassium, sodium, calcium, and manganese. It contains antioxidant properties which help in protecting the body against diseases. It is also a great source of hydration and helps in the reduction of blood pressure in the body.
Young Coconut Meat
The meat of the immature coconut is also packed with vitamins and minerals essential for the body. It contains medium levels of fatty acids which help in the reduction of cholesterol. It also contains anti-inflammatory, anti-microbial and anti-bacterial properties. A serving of the meat per 3.5 ounces contains almost 103 calories, 2g of proteins, 12g carbs, and 5g fats.
Uses
Young coconuts can be consumed and used in different ways especially for culinary purposes. The water can be chilled and taken as a juice. While the meat can be used as flavoring or frosting for cakes and desserts. In places like the Philippines, the flesh of the coconut is grated and soaked for a while. This produces a special kind of, buko' juice. The meat can also be consumed on its own as a dessert.
image source: Pixabay.com
Nutritional Value
Young coconuts are a rich source of carbohydrates, iron, calcium, and dietary fiber. The water found in this premature coconut contains high levels of electrolytes. The meat also contains saturated fat, which is not usually found in fruits and vegetables. Per serving, it has about 280 calories, with the 37g amount of water. The water contains about 26g saturated fat, 5g of sugar, and 14g of carbohydrate.
Dietary Fiber
The dietary fiber levels contained in young coconuts helps in the prevention of constipation. And also reduce the risk of hemorrhoids and diverticulosis. The average dietary fiber intake for an adult is between 20g- 38gg per day. Young coconut provides about 7g of dietary fiber content per serving.
Saturated Fats
The water and meat of a immature coconut both bosses different levels of saturated fats. The human body processes these fats differently from other saturated fats gotten from other sources like animal fats. Fats are used as fuel, rather than absorbing the fats like other saturated fats that get absorbed by the body.
Vitamins and Minerals
Young coconut is also rich in vitamins and minerals which are highly beneficial to the human body. It is a good source of sodium, potassium, and B vitamins. These vitamins and minerals help maintain a steady blood pressure level. Also aid in the production of red blood cells and help the body produce energy from food.