Tempura is Japanese cuisine. It is usually prepared by dipping seafood or vegetables in a light batter and deep frying it afterward. This dish originated from culinary techniques of early Portuguese in Nagasaki during the 16th century. It is a common dish in Japan and it's one of the perfect ways to enjoy seafood and vegetables. It is usually served with salt or tentsuyu sauce, grated daikon, mirin, and dashi (all traditional Japanese servings).
image source: Pixabay.com
Preparation of Tempura
This cuisine can be made out of cold sparkly water, wheat flour and sometimes eggs. It must be lightly mixed to avoid the batter from getting thick and prevents gluten strings. Rice flour is also a good replacement for wheat flour in making tempura. Not all seafood and vegetables can be used in making tempura. But the most commonly used are shrimp, squid, fish, mushroom, broccoli, sweet potatoes, bell pepper, cauliflower, etc. In recent times, some experiments with tempura have resulted in using chocolate, candy, and even ice-cream as tempura. Tempura batter can be absolutely gluten-free if mixed properly. It doesn't contain bread crumbs. Some chefs and cooks would prefer to spice up their batter which makes it even better. It can add flavor to any bland vegetable that seemed unpleasant for consumption. The final stage in its preparation is deep frying in heated vegetable oil preferably. This is not suitable for healthy eaters, as deep frying is likely to absorb oil. To reduce excess oil absorption, the batter must be very light and the oil heated to about 375 degrees Fahrenheit. This would shorten the frying time to two minutes or less.
Nutritional Value
The nutritional value of this cuisine varies according to the different ingredients used to make it. It is a great source of protein, carbohydrates sodium, and fat. As delicious as it may taste; it is best to keep consumption moderate as it also contains a high level of fat. For those on a diet, excess in taking of tempura wouldn't be a good idea. The body of a regular healthy adult requires at most 2,300 milligrams of sodium per day. One serving of vegetable tempura can produce about 1,120 milligrams of sodium. This is about 48-49 percent of an adult's daily intake. A person suffering from hypertension or diabetes ought to have a lower intake level of sodium of 1,500 milligrams.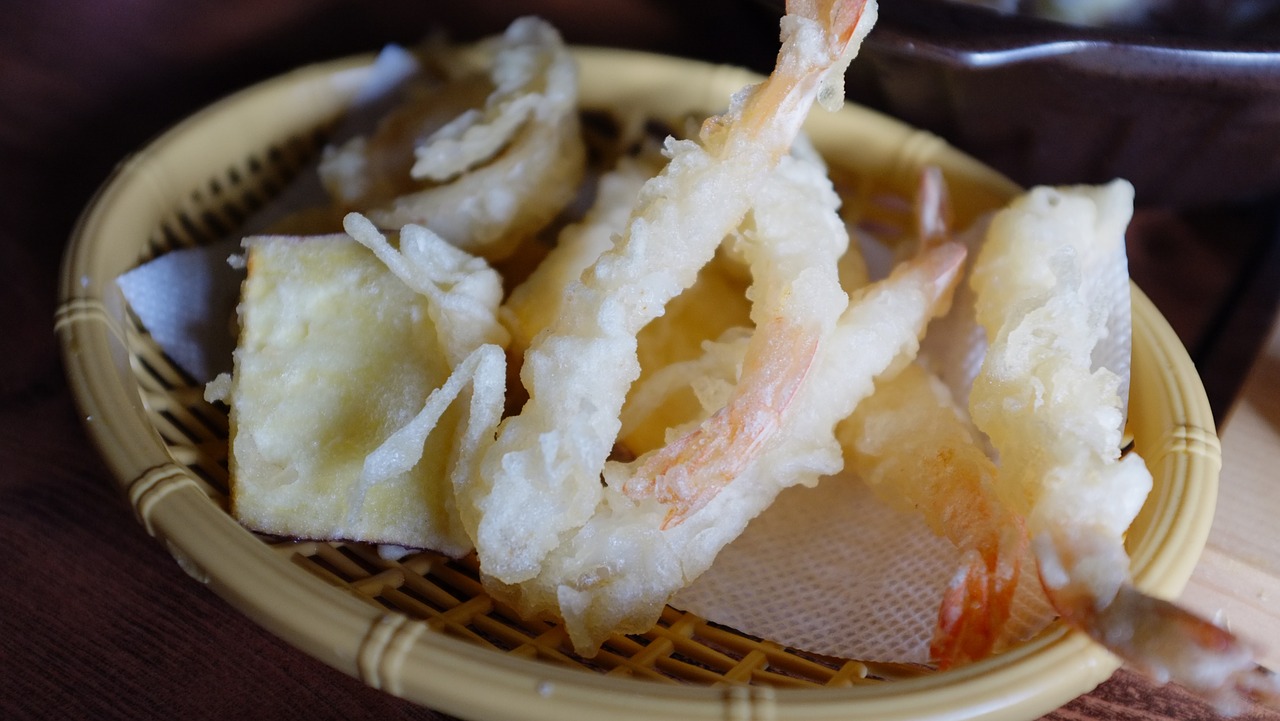 image source Pixabay.com
One serving of tempura contains about 137 grams of refined carbohydrates. Carbohydrates provide at least 45 percent of daily calories level in a regular healthy adult. One serving of vegetable tempura is enough to achieve this carbohydrate percentage.
Conclusion
Fried foods like tempura, are not necessarily detrimental to health if taken in moderation. The kind of oil also matters, for tempura, healthy oils like sunflower, peanut, sunflower, grape seed oils are preferable. To maintain a healthy intake, the servings should be reasonable. And to maintain a healthy balance, tempura high in fat and calories should be balanced with sushi or sashimi. This will help to keep the fats and calories under control.