Sambal Oelek is a spicy chili paste with roots in Indonesian and Malaysian cooking. It is composed of several ingredients including hot chili peppers, vinegar, and salt. Some of its variations contain other components such as lemon, sugar, onion, etc.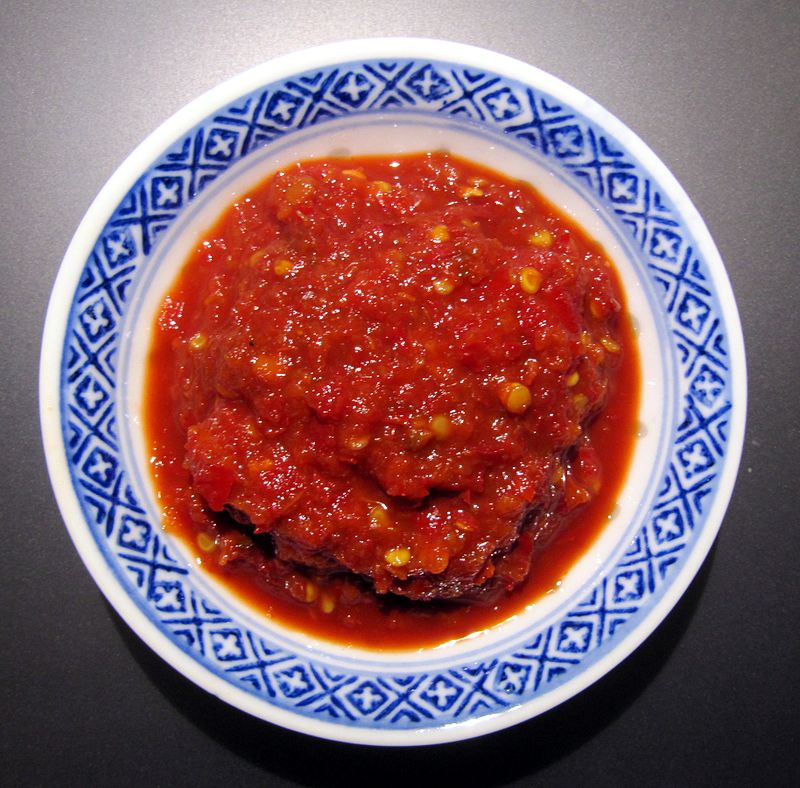 image source: Wikipedia
Sambal Oelek may have been discovered in Indonesia, but many other countries around the world love it tremendously. Some of these countries even have their version of this remarkable product. However, it continues to thrive despite immense competition. Making the Sambal Oelek is not very difficults since it requires simple some ingredients. The ingredients outlined below are used in making Sambal Oelek:
Chili
Distilled vinegar
Sodium bisulfite (preservative)
Xantham Gum
Garlic
Salt
Potassium sorbate (another preservative)
Not surprisingly, there are several variations of this product in the market today. Many countries love their spicy flavor. Sambal Oelek is chunky, thick, and contains whole jalapeño seeds. The pure flavor profile of this full-bodied masterpiece of a sauce is loved in homes and restaurants as well. Here is what people noticed about Sambal Oelek:
Sambal Oelek is a multipurpose sauce
Although it can be used as a condiment on its own, it is relatively versatile. You can make use of this spicy seasoning in several ways. You can either use it as an alternative to chili peppers in many dipping sauces or recipes. Weight watchers need to cut sugar out of their diet as much as possible. You can go for it since sugar is not part of the ingredients used in making the flavorful condiment. You will still get to enjoy the piping hot taste you have grown to love.
Good for your health
Sambal Oelek is made of virtually the same type of ingredients used in making its popular counterpart, Sriracha. The only difference is that the latter contains sugar as part of its components. The absence of sugar in it gives it a unique texture as well as taste. The distinctive taste is as a result of the prominence of the other flavors present in the hot spice. As you may – or may not – know, sugar always does an excellent job of masking other flavors in any product. So, Sambal Oelek is a healthier option for you. This is because there will be no buildup of sugar in your body if you consume it every day.
Comes in a user-friendly jar
Sambal Oelek is sold in an easy-to-clean-for-recycling jar which allows you to get every last bit out. This is unlike some spices that are sold in squeeze bottles, which are a terrible waste.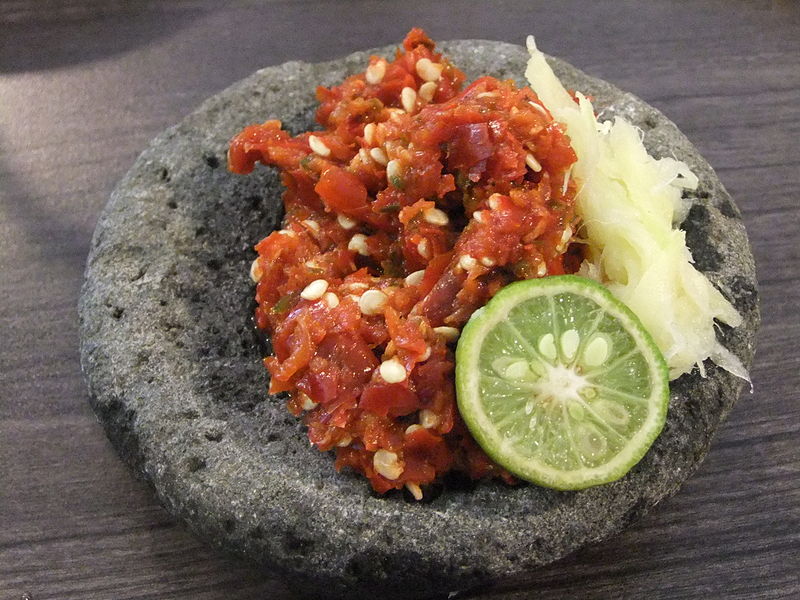 image source: Wikipedia
Full of spicy flavor
Sugar is noticeably absent from this remarkable chili sauce, which is a good thing. The garlic and chili peppers, which give the sauce its signature flavor, become the center of attention. Some lovers of this spicy condiment claim that Sambal Oelek is undoubtedly hotter than sriracha. But the difference between these two spices is not all that overwhelming.