Satay sauce, also known as peanut sauce in the Western areas, is a type of sauce made mainly from roasted or fried peanuts. It is a local cuisine of Malaysia, China, Indonesia and Thailand, which has been widely embraced by other parts of the world. It is served as a side dish alongside grilled beef or chicken (satay), tofu or used as a vegetable dressing. Satay sauce is rich in nutrients, high calories and monosaturated fats making it healthy for consumption.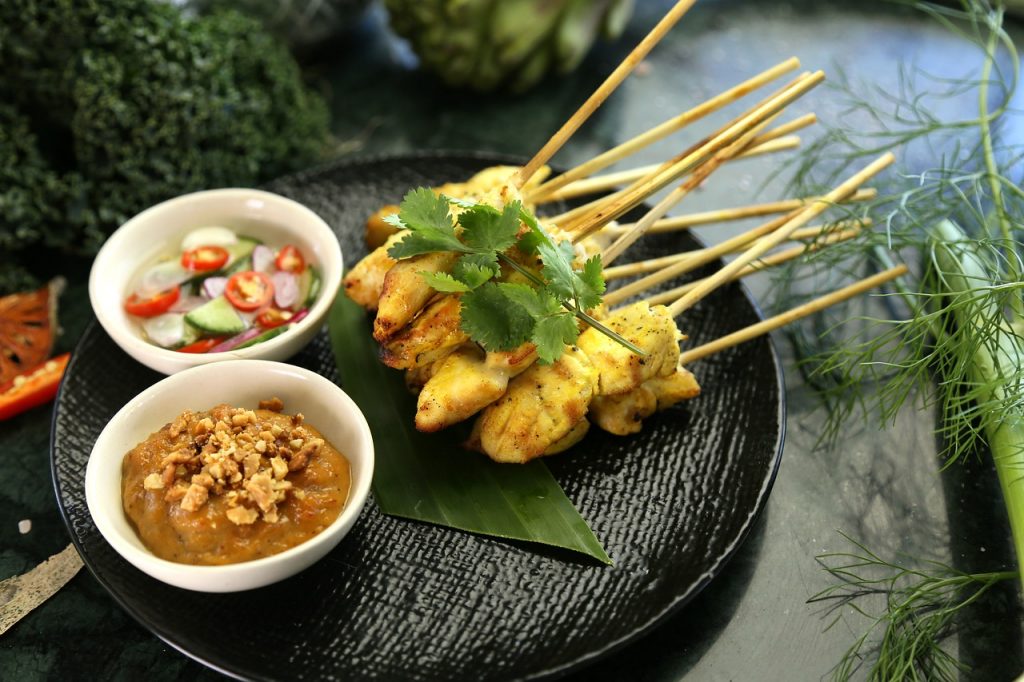 Source: Pixabay.com
Recipes
Satay sauce or peanut sauce maintains almost the same recipe worldwide except for a few changes made to the spices used. This results in having diverse textures and flavors of the sauce. The thickness and texture of the sauce are determined by the amount of water or coconut milk added to it. The sauce tastes better when made from scratch with roasted or fried peanuts; however, some persons prefer to use peanut butter as an easier method. The sauce contains:
Fried peanuts or Peanut Butter
Coconut milk
Soy sauce
Tamarind
Galangal
Garlic
Spices (personal choice)
Preparation Method
Preparing this sauce is quite easy and it takes a lesser amount of time to prepare. If using peanut butter, mix all the ingredients together and bring to a boil of five minutes. Using roasted peanuts may take a while. Some people prefer to pound the peanuts while others opt for blending. Once the peanuts have been ground, mix all the ingredients together and bring to a boil within five minutes.
Nutrition Facts
Satay sauce is rich in minerals like magnesium, phosphorus, zinc, and, potassium; vitamin E, B-vitamins (niacin, folate, thiamin); protein, and fat. Satay sauce per serving contains about 241 calories, 9 g protein, 127 mg sodium, 17 g fat, and 18 g carbohydrate.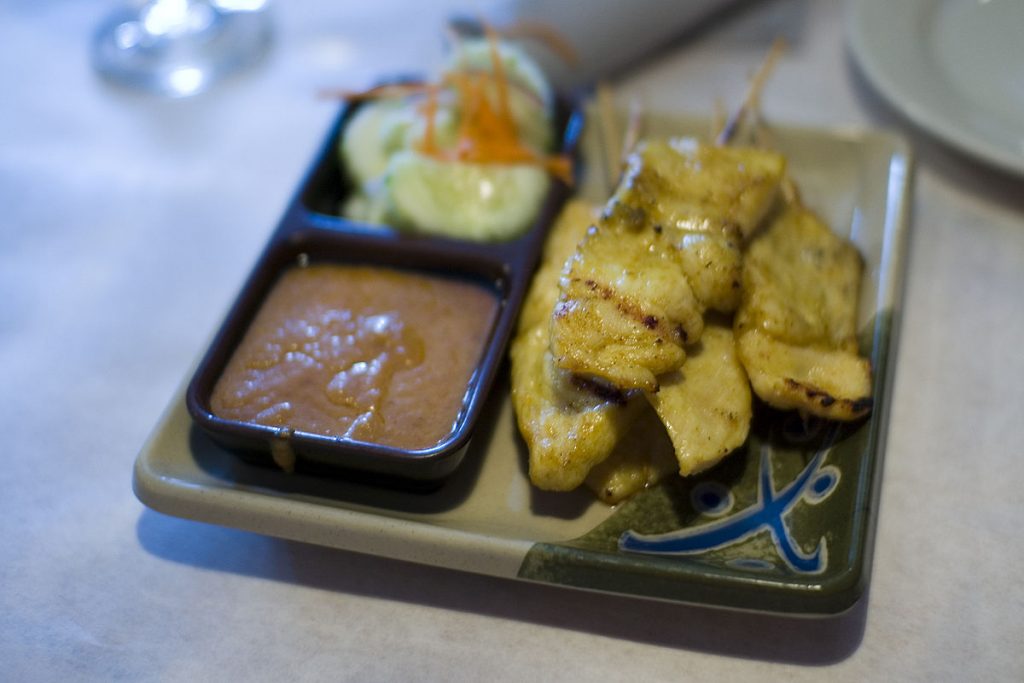 Source: Wikipedia
Benefits
Since satay sauce is majorly peanuts, it is only logical that major parts of its nutritional benefits would be the same as peanut or peanut butter.
Satay sauce is rich in monosaturated fats good for a healthy heart diet. It is a good replacement for other condiments that contain fats like butter and mayonnaise. When considering condiments with low-calorie levels, satay sauce may not be the best option. Other healthy alternatives are tomato sauce and black bean sauce.
The protein, fat, and fiber content present in satay sauce aids in maintaining a healthy weight and prevent weight loss.
High levels of unsaturated and polyunsaturated fats, vitamin E, niacin, and magnesium, contained in satay sauce can help improve heart health and improve blood lipid when taken in moderation.
The high-calorie level of satay sauce makes it a good option when it comes to bodybuilding.
Other health benefits of satay sauce include; managing blood sugar levels and treatment of some types of cancer like breast cancer.
This might interest you