Sesame seeds are a popular pantry item found in a number of baked goods, pastries and spice blends. But what are they really and do they pack any nutritional value? Sesame seeds come from the sesame fruit which is a triangular-shaped pod, similar in shape to okra. The plant is able to tolerate dry weather and grows up to 3.5 feet in height. This makes it available all year round with an export rate of 4 million tons per year. This nutty seed is also filled with a number of nutritional benefits thus making it not just a pantry staple.
Promotes Hair Growth
Sesame seeds contain rich omega fatty acids that help promote hair growth and can repair hair damage. It also helps moisturize the scalp while improving blood circulation.
Healthy Skin
Rich in anti-inflammatory properties, sesame seeds help reduce redness and promote soft and supple skin. Try mixing one tablespoons of olive oil with twice the amount in ground sesame seeds. You can apply this to your damp face once or twice a week for great results.
Improve Digestion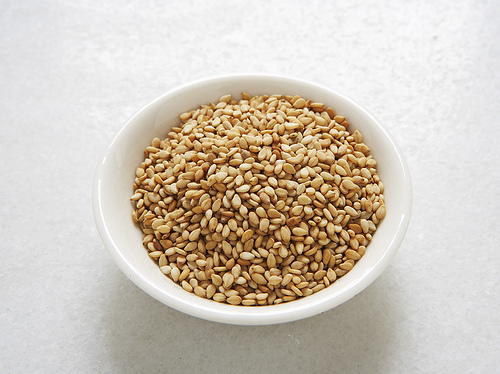 Source: irepo.primecp.com
There are two types of seeds, namely black and white. The black seeds contain high amounts of fiber and unsaturated fatty acids that help with constipation and digestion. The oil in the seeds helps lubricate the intestines thus causing smooth bowel movements.
Great Source of Energy
Since sesame seeds contain healthy fats such as Omega-6 and polyunsaturated fatty acids, once consumed they are able to help boost energy levels. There are also traces of iron, fiber, magnesium, and calcium.
Improve Bone Health
A high level of essential minerals like calcium, phosphorus, and zinc found in sesame seeds help contribute to great bone health. These minerals play an important part in making new bone matter and also strengthening and repairing weak/injured bones. These bones may have been damaged by injuries or bone conditions like osteoporosis.
Improve Oral Health
Have you ever heard of the process called oil pulling? It's where an oil of your choice is swished around in your mouth in an effort to remove bacteria. Sesame oil has powerful and notable effects on oral health, especially when used as an oil pull. It reduces the presence of Streptococcus bacteria in the mouth and can have astringent effects on overall oral health. So the next time you pass by these seeds at the grocery store, be sure to pick some up and implement them into your diet.