Gouramy fish is a freshwater, tropical fish that is native to East India and it is usually caught and raised for food. This type of fish is oval in shape with long rays that extend from each pelvic fin. In terms of weight, they are about 9 kg heavy (20 pounds). As adults, they are brown or gray with lighter bellies; but when young, they are dark and reddish brown. Gouramy fish that are popular in home aquariums are generally deep-bodied and small-mouthed.
Fried Sweet & Sour Gourami Fish
When it comes to cooking and consuming gourami fish, it can be found in stores in the form of a paste or pickled. You can also descale, gut and break it down like regular fish to be stir-fried, braised, sauteed or stewed. Here is a recipe that you can try: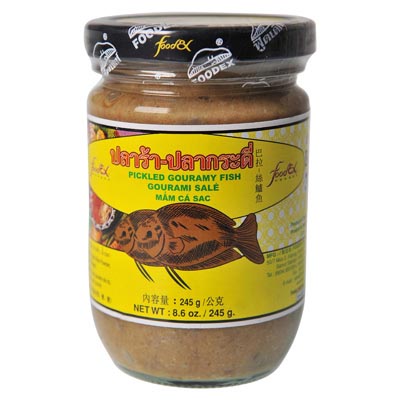 Ingredients
Gouramy Fish - 1/2kg Chopped Onion - 1 Diced Green Onion - 1 Chopped Garlic - 2 Cloves Quartered Tomato - 1 Chopped Red Chili - 1 Chopped Pineapple - 1 Tomato Sauce - 4 tablespoons Flour - 5 tablespoons Seasoned Flour - 85 grams Bouillion Powder - 1 tablespoon Oil for frying Water
Directions
Wash the fish and cut it into fillets by removing the bones. Do not throw away the bones or the head.
Combine 3 tablespoons of regular flour and seasoned flour with some water. Coat the fish fillet, bones, and head in the mixture.
Heat the oil over high heat to begin pan-frying the fish.
Now proceed to make the sweet and sour sauce. In a saute pan, saute the garlic until fragrant then add the chopped onion, red chili, spring onion, pineapple, and tomato. Saute for another minute then add the tomato sauce and bouillon powder. Stir to combine then taste for seasonings.
In a separate small bowl, combine the remainder of the regular flour with 5 tablespoons of water. Add this to the sauce in the pan and stir. This will help to thicken the sauce.
Place the fried fish on a plate, then top with the sauce and serve.
All in all, gouramy fish is a delicacy in East Indian and sometimes Asian cuisine. It is a meaty fish that has a light, flaky texture and flavor. You can also try the pickled gouramy fish in the jar or the paste. The past is great for adding to soups and stews to give another level of flavor - similar to fish sauce. How will you choose to prepare or cook with gouramy fish next time?