What is exactly this curry? A common thought about it is that its Thai food. However, Massaman curry is in fact native to the Muslim culture. Massaman curry can be described as a rich and mildly flavored curry. Spices that are not usually used in Thai curries along with fresh produce join forces to make this flavourful curry.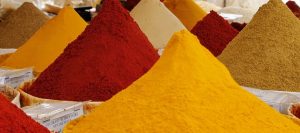 Source: Pixabay
The flavors of different spices with Massaman Curry
Massaman curry has a number of spices and other ingredients that render it one of the top tasting curries. Crushed local produce such as dried chilies, cilantro, lemongrass, galangal, shrimp paste, and shallots help give it that paste-like texture and appearance. In terms of spices, you will find some that are not native to traditional Thai curries. Some of these spices include cardamom, cinnamon, star anise, bay leaves, nutmeg, and mace. These spices were brought to Thailand from South Asia by foreign Muslim traders from the Middle East. The paste is then fried with coconut cream or oil and then meats - namely lamb and beef - are added. Other ingredients added include potatoes, onion, fish sauce, tamarind paste or sugar, peanuts, and coconut milk. There are also some variations that may use orange juice and or pineapple juice.
What do you serve Massman curry with? Well, white rice or other starches help soak up the flavourful curry. Due to its Muslim origin hence Islamic dietary laws, Massman curry will most likely utilize meats like chicken, duck, beef, mutton, and goat. Pork is not used because it is forbidden in Islam culture. Vegetarians and vegans have also adapted their own variation of this dish using fresh vegetables and meat substitutes.
Massaman Curry, the King of Curries
Massaman curry is definitely the 'king of curries', due to its healthy and flavourful components. You will find antioxidant and anti-inflammatory benefits in the spice. The flavor profile of this curry ranges from slightly sweet due to the tamarind, sugar, and fruit juice. However, a bit salty from the fish sauce nutty from the addition of fresh ground peanuts, and spicy from fresh or dried chilies.