Sushi is one of those hit or miss dishes - you either like it or you don't. It is popular all over the world, but there have been a few misconceptions about what the dish technically is. One of the misconceptions is that it is raw fish. However, raw fish is known as sashimi in Japanese cuisine. In actuality, the word itself refers to foods that include a type of rice seasoned with vinegar. It goes beyond just rolled rice, seaweed and accoutrements that you may often find.
Types of Sushi & Flavour Profile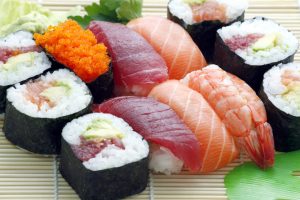 Source: Pixabay
If you are one who enjoys variety when it comes to food, then it is a great option as there are several types to choose from. One popular form that you may come across is nigiri sushi, which are hand-pressed piles of rice topped with various ingredients (namely seafood) and condiments. The top kinds of seafood include tuna, yellowtail and shrimp to name a few. Other sushi types include tuna rolls, cucumber rolls and even inarizushi - deep-fried tofu pouches filled with sushi rice. When it comes to seasoning the Japanese dish, the prime ingredients used are soy sauce and wasabi (Japanese style horseradish). Use soy sauce for dipping and wasabi to place inside, on top or mixed with the soy sauce. Additionally, pickled ginger (gari) is usually served with sushi along with green tea (agari) being the drink of choice. Some say that they end up with a bit of a dry mouth after eating the Japanese speciality. The seaweed or the seasoned vinegar used to flavour the rice may cause this. Pair your sushi with spicy mayonnaise and other creamy condiments to help keep your mouth moist.
How to make sushi at home?
Although sushi making is essentially a methodical process of spreading rice onto seaweed and adding your favourite toppings, it can get a bit tricky to execute. Here are three tips to help you achieve the perfect dish at home: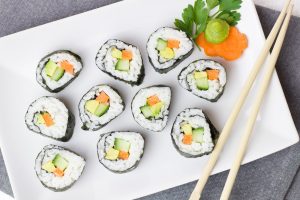 Source: Pixabay.com
Make water your friend when it comes to the sticky rice. The rice used in sushi making is in fact very sticky in comparison so keep the rice from sticking to your finger with damp hands. It also helps when it comes to molding your rice ball.
When it comes to the seaweed always remember to keep the shiny side away from you and the dull side facing upwards.
Be careful not to overfill your sushi. The amount of rice that you will need should be equal to the amount that you are able to roll into a ball with one hand.