The principal ingredients found in rice noodles ("rice noodles" are rice flour and water.) To improve the transparency and increase the gelatinous and chewy texture of the noodles, tapioca or corn starch is added. Unless Rice Noodles are made with grains that contain gluten, they are gluten-free. Adding wheat flour isn't a bad idea, however, it changes the texture of the noodles, in which case they are no longer pure rice noodles.
Source: Pixabay
This is important for people with celiac disease and gluten intolerance or allergy. The protein found in wheat, as well as in barley, oats, rye, and spelled is known as gluten. When mixed with water, these grains bond together to form a substance that holds things together thus allowing bread to rise. Those who have an autoimmune disorder called celiac disease most often are not able to consume gluten. If consumed their body fights it off like they would any foreign matter. During the attack, the gut or stomach walls and intestines may get damaged. Therefore, rice noodles are a safer option than wheat noodles.
They Contain No Eggs
Rice, flour, and water are the main ingredients used to make rice noodles. In some cases, it may contain finely ground rice and has been shaped into noodle form. This gives them a mild yet delicate flavor and texture. It is important to note that all Asian noodles are not wheat or egg-free so be sure to read the ingredients on the package. If you are a vegan or vegetarian, you can definitely use rice noodles instead of whole wheat pasta that may contain eggs. It is a great healthy, safe, and nutritious alternative.
They are simple to prepare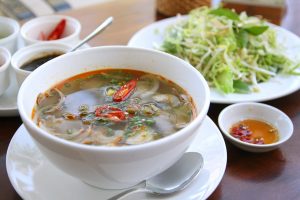 Source: pixabay.com
One of the easiest ways to prepare rice noodles would be to look at and carefully read the instructions on the package. It is important to pay close attention to the cooking time since overcooking the noodles can make them turn into mush. After boiling the noodles, drain and quickly get them into a hot wok to toss with some oil or sauce of your choice. Should the noodles be eaten cold or used at a later time, then just drain and run them under cold water? This process will remove the starch and cause them not to clump together. After that, toss them with some oil, place them in an airtight container and refrigerate.